GET INVOLVED IN SUPERHERO WEEK AND SUPPORT BEAR COTTAGE!
Our Superheroes
Superhero Week celebrates and honours bravery, commitment and strength.
Dynamic Duo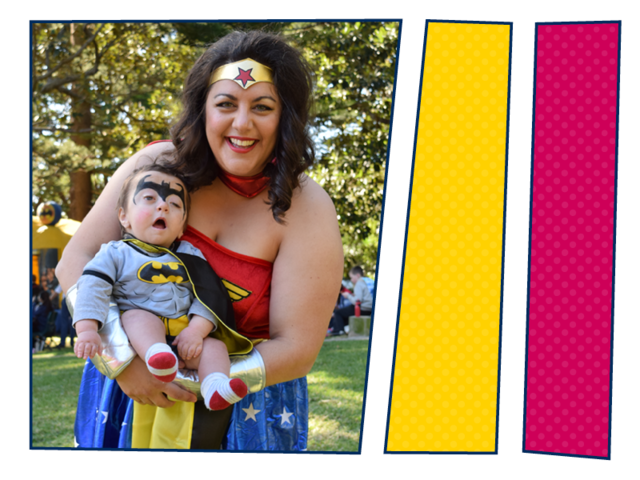 Jennifer and beautiful little Alexander are two of our very special Bear Cottage Superheroes.
Two and a half year old Alexander was born with a number of significant complications and had many months in hospital before he was able to come home. With brain, heart and respiratory issues, he requires around the clock care and whilst Jen has some support, being his primary caregiver meant sleepless nights and the weight of all parental responsibilities and high level medical care resting on her shoulders.
As a parent raising a child with chronic medical needs without a partner, life is not easy, but in October 2016 Jen was pushed to a new limit. Diagnosed with cancer, she wondered what her pending surgery and extensive treatment and recovery time would mean for the care of Alexander.
That's when she first connected with Bear Cottage and they have continued to visit for regular respite ever since. "I knew from reputation that we would be greeted with a warm smile and hug and accepted unconditionally. I wasn't prepared for the instantly calming atmosphere, the homely feel, well-stocked bookshelves, hand-made quilts on each bed and the gracious volunteer playing the Cottage's grand piano and inviting children to gather around and enjoy the music.
As a mother I was overjoyed and inspired to see my son encouraged to interact in art therapy and music classes, where he is assisted to paint his own hand print or listen and explore a range of musical instruments. He is cared for like someone's only child and not 'just' a patient. Our visits to Bear Cottage allow me to be the best mum I can possibly be and to maintain equilibrium in my life. I am unable to change my palliative child's chronic and complex condition – that much I know and accept. But as Alexander's mother, I can now just focus my time and energy on making his fraught and unpredictable life as comfortable as it can possibly be. I feel very fortunate that Bear Cottage is able to understand Alexander's complicated medical needs and provide so much care for us both."
Your support during Superhero Week helps us continue to provide this vital support to special superheroes like Jen and Alexander. Thank you!
Patrick, Scott and Philip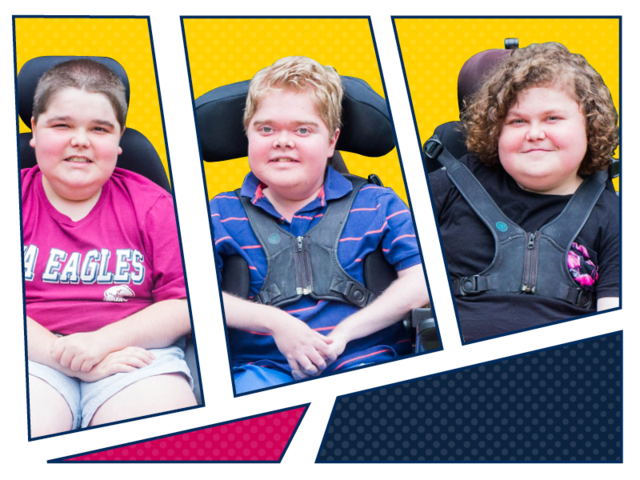 Patrick, Scott and Philip are three special Superheroes. They live with Muscular Dystrophy and every day face many challenges. They discovered Bear Cottage - and each other - a number of years ago, and when they join forces remarkable things happen.
At Bear Cottage, Patrick, Scott and Philip enjoy freedom and independence. Today their determination and motivation is thanks to the incredible mateship they've fostered over the years.
It comes as no surprise that Harley Quinn from Suicide Squad is high on these cheeky three's list of favourite Superheroes. Batman is right up there too—for using his intelligence in the absence of special powers. But they reserve a very special place for every Paralympian for showing "that no matter what your ability, put your mind to it, and you can do it".
Despite complex health conditions, it's their infectious love of life that strengthens their special bond. Time at Bear Cottage provides invaluable respite for their families, and for the boys, the chance to catch up and reconnect is priceless.
"We don't have many friends like us outside Bear Cottage so it is important for us to stay connected. We talk and laugh nonstop. We have fun together, build with Lego or just hang out."
Jamieson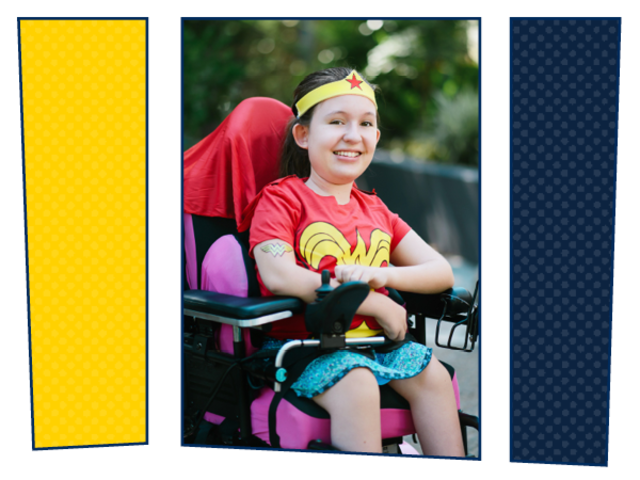 Living in Dundedoo, it's not easy to do a lot of things. Bear Cottage helps me in many ways.
I'm a 14-year-old girl and I live with my mum, sister and brother. We've been coming to Bear Cottage for about six years. I remember when I first came here it wasn't at all what I expected. I thought it would be more like a hospital but it isn't, it's very homely. Everyone is very kind and I feel comfortable talking to people and making friends.
At Bear Cottage I get to do things that I can't do at home. I know it sounds small, but having a bath is a big deal for me so when I'm at the Cottage, I love to have a long warm bath. They really pamper me; I have my nails done and get my hair cut and styled.
I also love to go for coastal strolls along the beach with my mum. It's pretty neat that she can stay with me, and so can my sister and brother. I love going on the wheelchair swing - you see, I'm a bit of an adrenaline junkie and I get to go pretty high! Can't do that in Dundedoo!
This year has been a big year for us. My mum had a pretty bad back injury and had to have surgery. I stayed at Bear Cottage so the nurses and team could care for me whilst mum recovered.
Without Bear Cottage I wouldn't be able to stay in the hometown of my favourite footy team. I am the Manly Sea Eagles' biggest fan! Staying at Bear Cottage means I get to go to some of the local footy games. Sometimes, the players visit me at the Cottage and have made some of my birthday celebrations pretty special.
I've met heaps of great people through different events and fundraisers for Bear Cottage. Being a creative chick, I love to draw, colour-in complex pictures and create keepsake objects that I can take home. When my mum was in hospital, I made two dream catchers. I kept one and gave mum one, so we were connected and all our bad dreams were caught and taken away. There's so much opportunity to make things and make memories at the Cottage. I'm always happy when I'm here.