GET INVOLVED IN SUPERHERO WEEK AND SUPPORT BEAR COTTAGE!
Our Superheroes
Superhero Week celebrates and honours bravery, commitment and strength.
Dynamic Duo - Jen and Alexander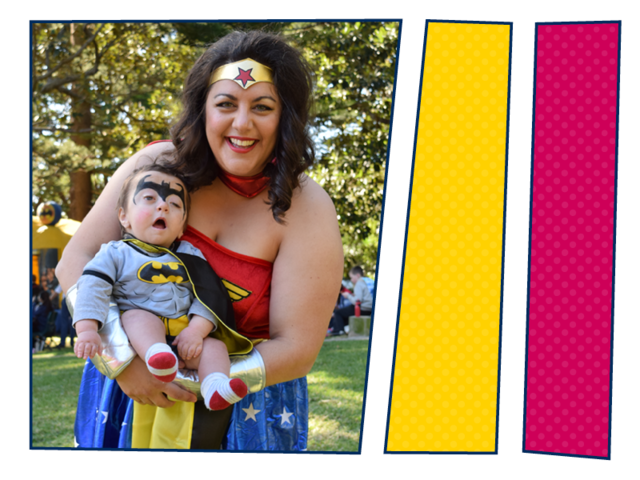 Jennifer and beautiful little Alexander are two of our very special Bear Cottage Superheroes.
Two and a half year old Alexander was born with a number of significant complications and had many months in hospital before he was able to come home. With brain, heart and respiratory issues, he requires around the clock care and whilst Jen has some support, being his primary caregiver meant sleepless nights and the weight of all parental responsibilities and high level medical care resting on her shoulders.
As a parent raising a child with chronic medical needs without a partner, life is not easy, but in October 2016 Jen was pushed to a new limit. Diagnosed with cancer, she wondered what her pending surgery and extensive treatment and recovery time would mean for the care of Alexander.
That's when she first connected with Bear Cottage and they have continued to visit for regular respite ever since. "I knew from reputation that we would be greeted with a warm smile and hug and accepted unconditionally. I wasn't prepared for the instantly calming atmosphere, the homely feel, well-stocked bookshelves, hand-made quilts on each bed and the gracious volunteer playing the Cottage's grand piano and inviting children to gather around and enjoy the music.
As a mother I was overjoyed and inspired to see my son encouraged to interact in art therapy and music classes, where he is assisted to paint his own hand print or listen and explore a range of musical instruments. He is cared for like someone's only child and not 'just' a patient. Our visits to Bear Cottage allow me to be the best mum I can possibly be and to maintain equilibrium in my life. I am unable to change my palliative child's chronic and complex condition – that much I know and accept. But as Alexander's mother, I can now just focus my time and energy on making his fraught and unpredictable life as comfortable as it can possibly be. I feel very fortunate that Bear Cottage is able to understand Alexander's complicated medical needs and provide so much care for us both."
Your support during Superhero Week helps us continue to provide this vital support to special superheroes like Jen and Alexander. Thank you!
Family Ties - Belinda, Bear Cottage mum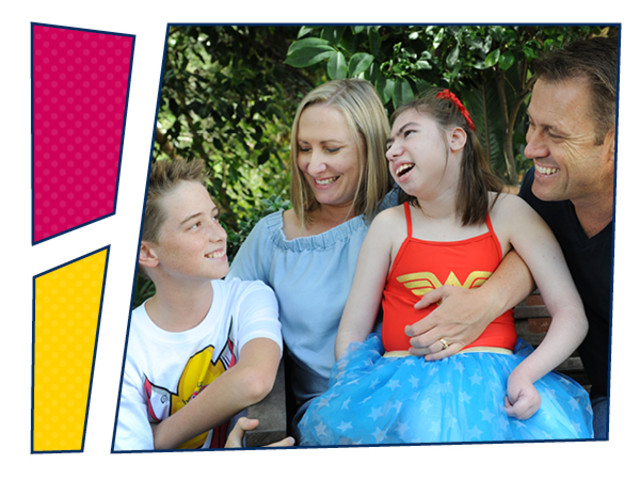 Asking for and accepting help has never been something we've been comfortable with.
When our daughter, Erin (now 10) was born we knew eventually we'd need a bit of help. Erin suffered a fetal-maternal transfusion within the final hours of pregnancy, this means that most of her blood drained out of her body before birth.
Erin had a number of blood transfusions at birth but her brain was badly damaged as a result. Erin has cerebral palsy and we were told that with the amount of damage to her brain, it would be unlikely if Erin survived past her first birthday.
We first heard about Bear Cottage in the early days of Erin's life. Unfortunately our stubbornness prevented us from visiting or having any contact.
When Erin was 7 years old, her airways started collapsing and we were again given the heartbreaking diagnosis that Erin's condition would more than likely be fatal. After spending a long, hard and emotional 7 months locked up inside our house, to keep Erin at a stable air temperature we were at breaking point. We needed to open up and allow someone else to help us to care for Erin and to allow us the opportunity to have a break and spend some much needed time with our son Denver (now 12).
I arranged for Erin, Denver and myself to spend a week at Bear Cottage and for my husband Darin to join us at the weekend. I didn't really know what to expect. I was amazed at how relaxed, comfortable and welcome we felt.
Denver enjoyed meeting other siblings, being involved with the music therapy, visiting the beach and spending quality time together. He was made to feel very welcome by all of the staff and volunteers and loved the attention he was receiving from everyone.
After the first few days, my husband asked me "Does it really feel like a break?" Yes it really did, so much more than expected. I was able to sleep in, go for walks, relax, do yoga and enjoy the good parts with Erin like cuddling and not having to worry about the day to day care of feeding, bathing etc.  Darin joined us on the weekend and was able to relax and see for himself what I'd been telling him all week. At the end of our first week, honestly we didn't want to leave.
 In the years following, we have been able to visit Bear Cottage as a family numerous times. I've attended a mum's camp where I was pampered, spoilt but most importantly I was able to meet some amazing mums and connect with them in a relaxed and fun way.
Denver has really embraced being a part of the Bear Cottage family. He has attended sibling camps where he was able to meet and bond with other siblings who 'just get it'.
Denver was inspired to approach his school and nominate Bear Cottage to raise awareness and funds. With the help of his teachers and the school community, the school held a Superhero Day where all the teachers and students dressed up as superheroes, had a teddy bears picnic and held a raffle. Denver even contacted Arnott's Biscuits to see if they could donate Tiny Teddy Biscuits for the students to enjoy as part of their day. He was beyond excited when they agreed. The day went well and the school was able to raise almost $2,000 to present to Bear Cottage.
Denver loved telling his friends and fellow students about Bear Cottage, what it is and why it is such an important place for families. As parents, we are so proud and happy that he has been able to fulfil his dream to give a little back to this place that has made him feel like he was a part of it.
Bear Cottage is an amazing place for families like ours. We've met many great people that we've been able to bond with, share stories and experiences with on our own terms knowing that we have all been through so much and all understand the feelings that we have experienced with our children's diagnosis.
Bear Cottage is not only caring and beneficial for the sick child, it is special to the entire family, and I can now see how important that is for all of us.
Strength in numbers - Patrick, Scott and Philip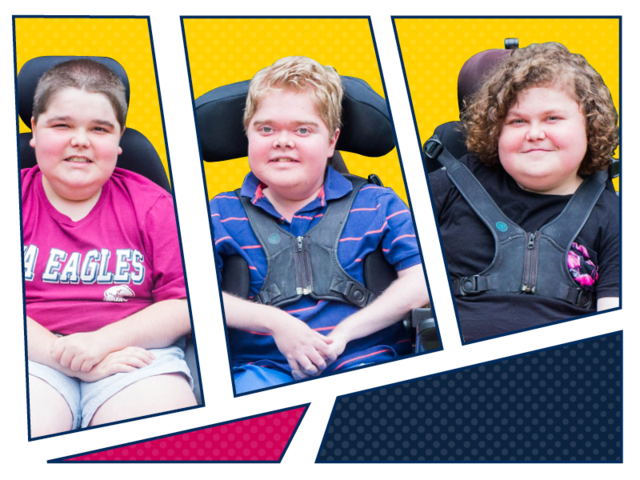 Patrick, Scott and Philip are three special Superheroes. They live with Muscular Dystrophy and every day face many challenges. They discovered Bear Cottage - and each other - a number of years ago, and when they join forces remarkable things happen.
At Bear Cottage, Patrick, Scott and Philip enjoy freedom and independence. Today their determination and motivation is thanks to the incredible mateship they've fostered over the years.
It comes as no surprise that Harley Quinn from Suicide Squad is high on these cheeky three's list of favourite Superheroes. Batman is right up there too—for using his intelligence in the absence of special powers. But they reserve a very special place for every Paralympian for showing "that no matter what your ability, put your mind to it, and you can do it".
Despite complex health conditions, it's their infectious love of life that strengthens their special bond. Time at Bear Cottage provides invaluable respite for their families, and for the boys, the chance to catch up and reconnect is priceless.
"We don't have many friends like us outside Bear Cottage so it is important for us to stay connected. We talk and laugh nonstop. We have fun together, build with Lego or just hang out."
Wonder Girl - Jamieson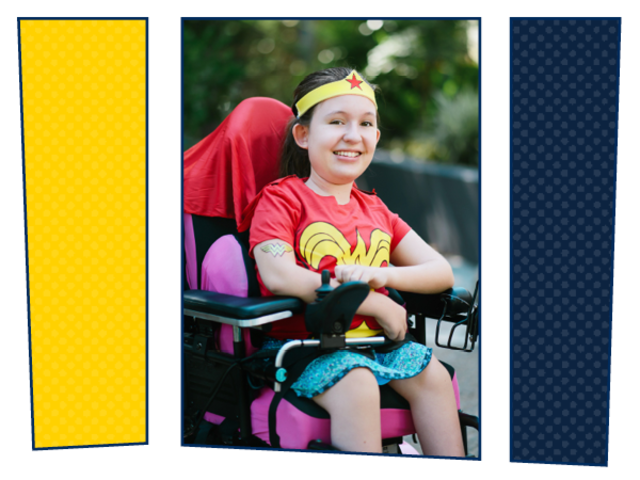 Living in Dundedoo, it's not easy to do a lot of things. Bear Cottage helps me in many ways.
I'm a 14-year-old girl and I live with my mum, sister and brother. We've been coming to Bear Cottage for about six years. I remember when I first came here it wasn't at all what I expected. I thought it would be more like a hospital but it isn't, it's very homely. Everyone is very kind and I feel comfortable talking to people and making friends.
At Bear Cottage I get to do things that I can't do at home. I know it sounds small, but having a bath is a big deal for me so when I'm at the Cottage, I love to have a long warm bath. They really pamper me; I have my nails done and get my hair cut and styled.
I also love to go for coastal strolls along the beach with my mum. It's pretty neat that she can stay with me, and so can my sister and brother. I love going on the wheelchair swing - you see, I'm a bit of an adrenaline junkie and I get to go pretty high! Can't do that in Dundedoo!
This year has been a big year for us. My mum had a pretty bad back injury and had to have surgery. I stayed at Bear Cottage so the nurses and team could care for me whilst mum recovered.
Without Bear Cottage I wouldn't be able to stay in the hometown of my favourite footy team. I am the Manly Sea Eagles' biggest fan! Staying at Bear Cottage means I get to go to some of the local footy games. Sometimes, the players visit me at the Cottage and have made some of my birthday celebrations pretty special.
I've met heaps of great people through different events and fundraisers for Bear Cottage. Being a creative chick, I love to draw, colour-in complex pictures and create keepsake objects that I can take home. When my mum was in hospital, I made two dream catchers. I kept one and gave mum one, so we were connected and all our bad dreams were caught and taken away. There's so much opportunity to make things and make memories at the Cottage. I'm always happy when I'm here.